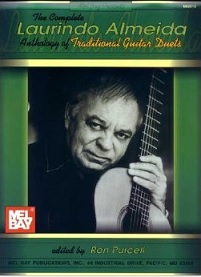 The complete Laurindo Almeida anthology of Traditional guitar duets
Laurindo Almeida
Sheet Music: partituras (guitarra)
In Stock
Warning: Last items in stock!!!
Availability date: 07/11/2018
More info
(30 x 22 cm) (Peso: 376 gr)

"This collection of 16 guitar duets offers professionals, teachers or students a wide variety of styles from the Baroque to the Post-Romantic periods. Some of this music is unique to the guitar repertoire. For example, the six Serenades introduce some of the most popular music of the late 19th century by Georges Bizet, Franz Drdla, Enrico Toselli, Moritz Moszkowski, Ricardo Drigo and Sigmund Romberg. The collection ends with selected works by Tchaikovsky and Brahms. These arrangements are skillfully crafted and will delight the intermediate student."