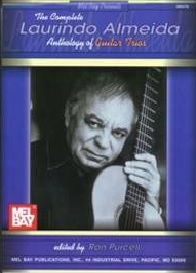 The complete Laurindo Almeida anthology of Guitar trios
Laurindo Almeida
Sheet Music: partituras (guitarra)
In Stock
Warning: Last items in stock!!!
Availability date: 07/11/2018
More info
(30 x 22 cm) (Peso: 298 gr)

Partituras en notación standard de los arreglos para tres guitarras de Laurindo Almeida de los temas: "Jesu, joy of man's desiring" (de la Cantata nº 147) (Johann Sebastian Bach), "Allegro" (Domenico Scarlatti), "Étude", Tchaikovsky's serenade" (Perter Ilich Tchaikovsky), "Clair de lune" (Claude Debussy), "El puerto" (Isaac Albeniz) y "Prelude in C sharp minor" (Sergei Rachmaninoff).

"Laurindo Almeida (1917-1995) belongs to an elite group of Brazilian/American guitarists, who by composing important works for the guitar reinstated the instrument in his native country as worthy of serious musical study. This collection presents Almeida's trios preserving the original left and right hand fingerings. Written in standard notation only."